Intro
Relationship Transformation
Our book gives you a trusty map for blazing your own trail to a satisfying relationship — on your own terms.
You can read the opening pages right here, then click through the links below to order the entire book in the format of your choice.
Excerpt
Introduction
This book was inspired by all the couples I've spent time with as a therapist over the past forty years. I have been touched by their honesty, courage, and perseverance in saving relationships on the brink of dissolution. These couples wanted more than just an okay relationship; they wanted to experience satisfying love lives. An inner voice nudged them and told them not to give up — there was something better out there.
To have one's cake and eat it too is a popular Old English proverb first recorded in 1546. Its meaning is similar to the phrases "you can't have it both ways" and "you can't have the best of both worlds.The proverb suggests that we reign in our audacious desire to have or want more than we deserve. It speaks of the impossibility of possessing two incompatible things, like oil and water, rain and shine, and darkness and light.
In this book, cake is a metaphor for an exuberant love relationship in which freedom and commitment can coexist. Cake is about joy, sweetness, and levity, the stuff of robust relationships. We celebrate special occasions — birthdays, anniversaries, and weddings — by eating cake together. We love cake — red velvet, orange-glow chiffon, chocolate-raspberry ganache, devil's food, angel food, and strawberry shortcake — to name a few favorites. Even thinking about cake spreads joy down to the cellular level of our being. Eating cake makes us happy.
Nowadays most people aspire to having the best of all worlds and believe they can achieve it. We, post-moderns sit poised to break through our narrow definitions of relationship and commitment. Deep down we yearn for a committed relationship that gives us enough space to feel free and enough security to feel safe and loved.
We have been given a dualistic relationship model — caged or free, single or saddled, take it or leave it. These outmoded models don't fit our contemporary lifestyles, yet couples get stuck in them by default. People — Millennials, Gen Xers, and Boomers — want more options. They long to loosen the constraints of old models and create relationships that are more congruent with their values and lives.
Our premise — you can have your cake and eat it too — embraces the sacredness of the contemporary values of individual freedom, personal control, and self-realization. To the greatest extent possible, we 21st-century people want a life that allows us to do what we want, when we want, on our own terms. We want a relationship that gives us room to focus on ourselves, and liberates us from feeling solely responsible for our partner's happiness.
We live in an exciting time, a period in which personal growth and transformation are highly valued. Our collective impulse toward freedom is strong. Yet deep connection, forging an enduring bond with another human being…
step by steps you to an awareness of what drives you
Relationship Transformation step-by-steps you to an awareness of what drives you, what holds you back, and how you can re-envision your relationship to create lasting, satisfying love.
re-envision
Re-envision yourself, your partner, and your relationship.
Our book distills Jerry Duberstein's 40+ years as a therapist into an accessible, helpful guide to honoring your separate selves while building joyful, committed relationships.  In it, you'll find:
The Inner Relationship Fingerprint Assessment: discover your relating style
Tons of case studies: front-row seats to the interior lives of couples
Quizzes, exercises, instructions, and discovery prompts
Simple ways to enrich and deepen your inner and shared lives
Guided reflections to reconnect to your inner still point
Timeless, universal practices applicable to any relationship and situation.
We know that no one relationship model works for every couple.  So instead of suggesting a cookie-cutter ideal, we guide you to honoring your unique desires — and discovering and consciously creating the relationship that's best for you.
meg and jerry
Meet the Authors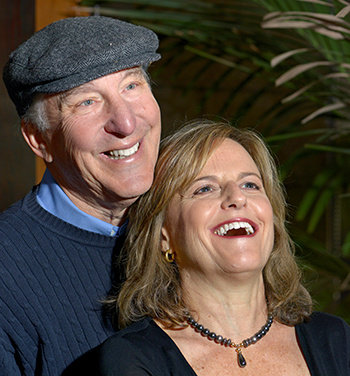 We (Jerry + Meg) wrote this book together, in the first year of our relationship.  We road-tested every exercise on ourselves, in real time — and created a more satisfying relationship than either of us had ever had.  By Chapter 3, we were married!
We can testify first-hand the power of working through these processes for reconnecting to yourself and your partner.
You'll get Jerry's clinical experience + Meg's down-to-earth practicality.  A gender-balanced guide you can trust.  A guide from one couple to another.
cultivate…
Discover a fresh perspective on yourself and how you relate.  Cultivate the courage to speak your deepest needs.  Create the relationship you want.
book cover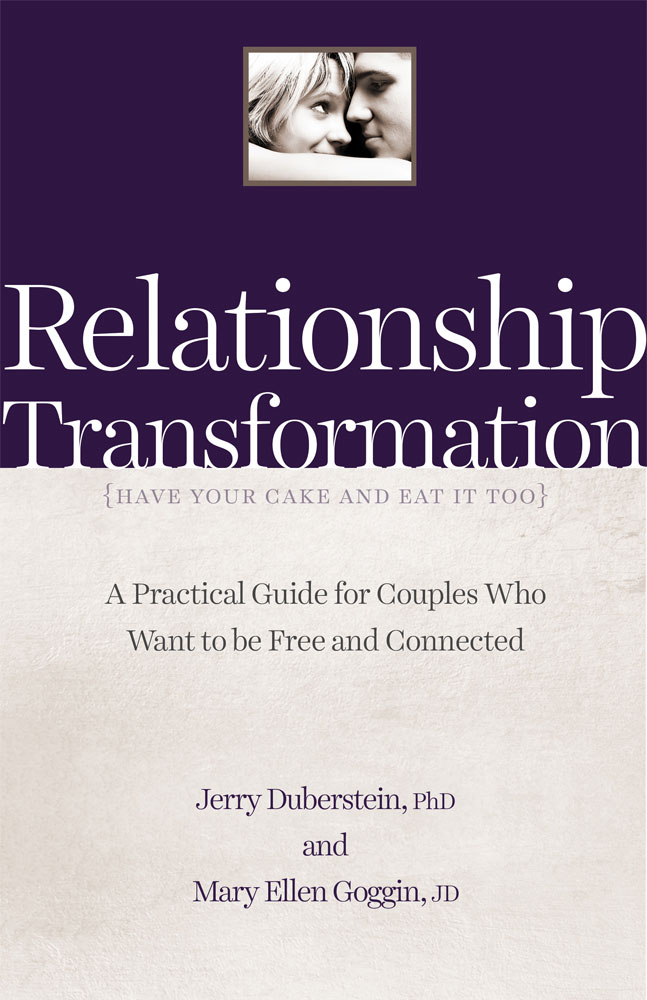 reviews
"The ones that can hurt us the worst are the ones that we love the most. The damage we do and the damage that is done to us by strangers is nothing compared to what our spouses are capable of. That's why "Relationship Transformation: Have Your Cake and Eat It Too" by Jerry Duberstein and Mary Ellen Goggin is such a timely and important contribution to every growing library of self-help guides. This 184 page paperback compendium offers a comprehensive yet succinct guide to building relationships with loved ones that will endure for a lifetime. Practical, thoroughly 'user friendly', insightful, and at times inspirational, "Relationship Transformation" is highly recommended for personal reading lists and community library Self Help reference collections." — The Midwest Book Review
"Too often people seek couple therapy in hopes their partners will change—usually a lost cause. I love the ways the stories and exercises invite you to first explore your own style of thinking and communication. You can mutually transform your conversations from trying to prove yourself right to seeking genuine intimacy. Although designed as a self-study book for couples, it applies to all types of relationships, and could help those who are single to prepare for a healthy relationship."— Cynthia L. Wall, LCSW, author of The Courage to Trust: a guide to building deep and lasting relationships
"For too long love and commitment have been misunderstood as meaning a loss of freedom. Instead, real romance, true love, and lifelong commitment help you plumb the depths of your true freedom—and this book shows you how!" — Judith Sherven, PhD, and Jim Sniechowski, PhD, best-selling authors of The New Intimacy
buy call to action
Ready to order?
Choose a format below. You'll be taken to Paypal where you can use your PayPal account or a credit card. Not a PayPal member? No worries. Just click on "guest" and proceed.
If you have any questions, we're happy to help.
buy links
You can also download a version for your favorite e-reader for $6.99
Or purchase either the paperback or Kindle versions through Amazon.